You are reading
http://viridianariverstone.blogspot.com/
.
this photo: Mae Nak's actual shrine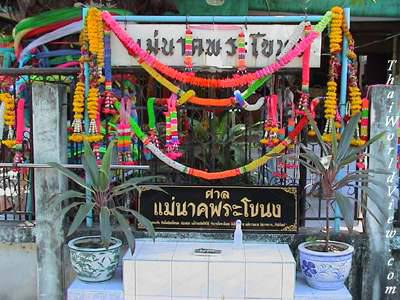 There's something organic about Thai stories that I find lacking in other Asian horror. Thai people still live with their ghosts and spirits; it's part of every day life, not some relic of the past. This makes the stories poignant, venerable, deeply rooted in ancient traditions I can barely fathom, but which I love to observe and ponder. I looked up Mae Nak before I watched this. She is greatly loved and honored. Even though I will never fully understand Thai traditions, I respect them. Thai "horror" is more innocent than the cynicism of Japanese, the wry social humor of Korean or the subliminal social commentaries of Chinese.With This is a story of undying love so strong, it surpasses death.This is a rich and loving look into the ways Thai people walk with their dead. This is pure loyalty and the heartbreak of separation. The locations are delicious; Bannock becomes another character in the film. The comic relief of the bad guys, Tick and Tock, is very funny and reminded me of Cheech and Chong. It's not superb acting or script or anything (well, the film score was quite fine); the special effects are limited, a tad cheesy and not dazzlingly expensive. What makes this movie so good is that it has heart, real personality and respect for its own cultural traditions. These qualities are rare in film today. Oh, there's sloppy sentimentality in modern film: manipulation of the audience, sure; that sells tickets. What this film has, which is so rare and valuable but so seldom recognized in the film industry as worthy these days, what this film has is sincerity. And the ending is a kick in the pants!! Enjoy the ride! Rogi Riverstone
The story of Mae Nak Phra Khanong is famous and a favorite among Thai people. There is a shrine dedicated to her at Wat Mahabut on Sukhumvit Soi 77 (On Nut) in Bangkok's Suan Luang (formerly Phra Khanong) district.
The tale has been depicted on film numerous times since the silent era, with one of the most famous being Mae Nak Pra Kanong in 1958. A 1999 version, Nang Nak, by Nonzee Nimibutr, gained worldwide acclaim as part of the "Thai New Wave" cinema movement. There also is an opera, Mae Naak, by Thai composer Somtow Sucharitkul.